Thin-wall flat drip irrigation pipe Extrusion line
 Technical parameter:
Item

Diameter

Thinkness

Speed

Space

Thin-wall flat drip irrigation pipe production line

∅12-16-20mm

0.12-0.4mm

0.2-0.9mm

≤300m/min

100、150、200、300、400、500-1500mm
| | |
| --- | --- |
| Distance 100mm | Speed 150m/min |
| Distance 200mm | Speed 300m/min |
| Distance 300mm | Speed 300m/min |
Product description:
"ZEANON" is an independent brand developed by Qingdao Xindacheng together with European well-known drip line. Zeanon products cover all aspects of the drip irrigation field, including water-saving irrigation technology & machinery, engineering design, drip products and drip irrigation pipe Extrusion line.
1. New dripper feeder,inserting speed:1200-1500pcs/min.
2. New dripper buffer unit:None stop machinery, feeding 1200pcs/min at least.
3. Making thin irrigation pipe: thickness min 0.12mm,weight only 7g/m.
4. Making big thickness pipe 0.9mm
5. Line speed:200–250m/min.
6. Dripper small space:100mm. (from 100-1000mm)
7. Upgrade dripper identification and insertion, auto indentify non-proper dripper, assurance dripper 100% passing with good direction.
8. Auto punching device, two sets, double drop hole or single drop hole on each dripper, speed more than 1000pcs/min.
9. Punching device fixed with online monitor & picture identify system: Setting punching hole area, auto alarm for wrong punching,make sure product quality.
● Zeanon irrigation pipe weights less than 7g/m,Reduce 30% material which will largely save cost.
● Configured with advanced dripper dripper buffer and insertion unite (Europe technology),Insert 1000-1500 pieces of dripper per minute.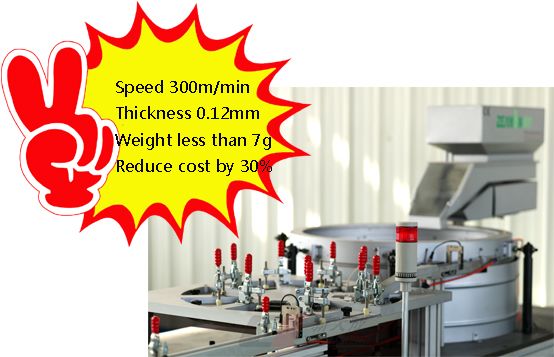 ● Europe import dripper, weights only 0.1g/pcs(China exclusive agent)
1.Qingdao Xindacheng import from Europe, China exclusive agent.
2.High efficient inner irrigation pipe dripper adopted high efficient injection mold technology.
3.All produced in Europe, to make sure of the quality.
● Double Auto Punching Unit
1.Punching device fixed with online monitor & picture indentify system, store the punching system.
2.Auto alarm for wrong punching, it is controlled by PLC system,
3.Tracking and adjust the punching system in time.
● Auto winder + Accumulator device,It is drive by servo motor. Automatically wind the dripper irrigation pipe. Controlled by PLC system.
---
---