High Speed Flat Irrigation Pipe Production Line
XDC-AAS Technology High Speed Flat Drip Irrigation Pipe Production Line
Technical parameter:
| | | | | |
| --- | --- | --- | --- | --- |
| Model | Pipe diameter | Pipe thickness | Highest speed | Distance of dripper |
| XDC-DGG 300B | Φ12-16-20-22-25mm | 0.12-0.6mm0.2-1.0mm(optional) | 320m/min | 100、150、200、300、400、500-1500mm |
| | |
| --- | --- |
| Space 100mm | Line speed 300m/min |
| Space 200mm | Line speed 320m/min |
| Space 300mm | Line speed 320m/min |
Product description:
"ZEANON" is an independent brand developed by Qingdao Xindacheng together with European well-known drip line. Zeanon products cover all aspects of the drip irrigation field, including water-saving irrigation technology & machinery, engineering design, drip products and drip irrigation pipe machine.
1. Dripper feeder device: double sets. Dripper feeding speed: 3000pcs/min.
2. Have dripper buffer device, make sure non-stop machinery even if happen bad quality dripper block on feeder.
3. Extruder: Servo direct drive, save power.
4. Extruder die head & calibrating: Germany technology, thickness adjustable.
5. Configuration: One-button automatic pipe-holding dripper insert device.
6. Irrigation pipe accumulator: equipped with the most advanced European parallel accumulator device.
7. Automatic drilling device: 3 units. speed: 3000times/min.
8. Configure online automatic imaging analysis and monitoring punching system: monitor the punching status, realize the error automatic alarm function, and ensure the product punching rate.
9. Line speed: 300m/min, it is the fastest production efficiency in the world.
* dripper space 100mm, speed: 300m/min.
* dripper space 200mm, speed: 320m/min.
* dripper space 300mm, speed: 320m/min.
Feature 1: Zeanon irrigation pipe weights less than 7g/m,Reduce 30% material which will largely save cost.

Feature 2: 
• Configured with advanced dripper dripper buffer and insertion unite (Europe technology)
• Insert 3000 pieces of dripper per minute.
Feature 3: 
• Advanced dripper,weights only 0.1g/pcs(China exclusive agent).
• Qingdao Xindacheng import from Europe, China exclusive agent.
• High efficient inner irrigation pipe dripper adopted high efficient injection mold technology.
• All produced in Europe, to make sure of the quality.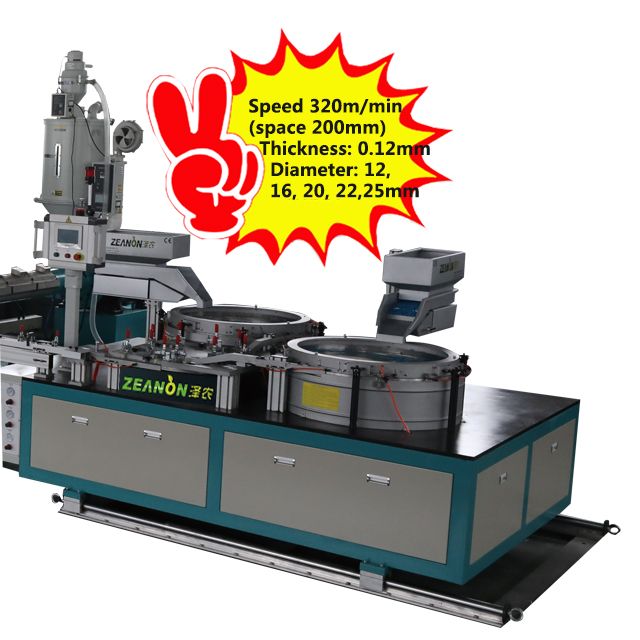 Feature 4: 
• Double Auto Punching Unit(3 unit)–leading technology in the world;
• Punching device fixed with online monitor & picture indentify system, store the punching system;
• Auto alarm for wrong punching, it is controlled by PLC system;
• Tracking and adjust the punching system in time.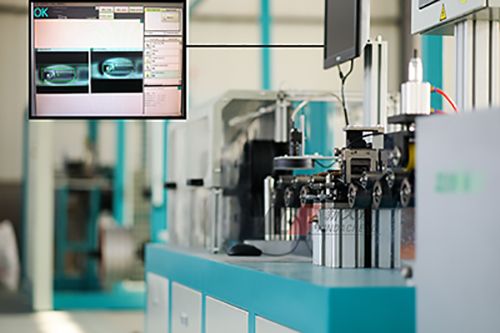 Feature 5: 
• Auto winder + Accumulator device
• This is an important part of the drip irrigation pipe machine.
• It is drive by servo motor.
• Automatically wind the dripper irrigation pipe.
• Controlled by PLC system.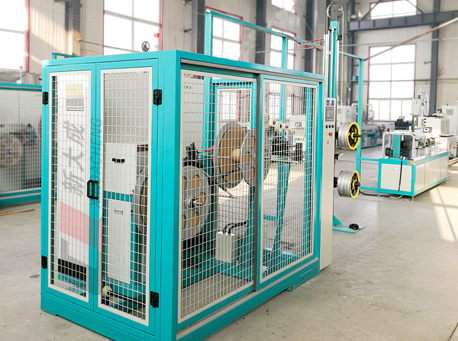 ---
Previous:
Krah pipe production line
---